PBM Express & Gentle Giant Studios present: Knights of the Old Republic: Darth Nihilus mini bust




This menacing Darth Nihilus mini bust by Gentle Giant Studios is distributed exclusively by PBM Express. It is the first ever resin collectible based on the fan-favourite Sith Lord from Knights of the Old Republic II. Darth Nihilus was created by Obsidian Entertainment as one of the primary antagonists for the 2005 Xbox and PC video game Star Wars: Knights of the Old Republic II: The Sith Lords. His story was later elaborated upon in a comic, Unseen, Unheard, featured in Star Wars Tales 24.

Darth Nihilus was a Human male who reigned as a Dark Lord of the Sith during the era of strife following the Jedi Civil War. Before becoming a Sith Lord, he lost everything during the Galactic Republic's war against the Mandalorian Neo-Crusaders.

He was a figure of the shadows. He always craved greater power. However, unlike most Sith Lords, he cared very little for the Sith as an organization. Nihilus saw death as the sole purpose of life, and power as the means to achieve it. He was cautious, as his actions during the campaign against the Jedi showed, and was known as an aggressive, dominant figure who would not abide a threat to his power. After he was forced to shed his physical being, he ceased to feel fear and other emotions; he became an entity of pure intent. Nonetheless, Nihilus was still human enough to have some feelings, as his bond with Marr persisted until their confrontation on the Ravager. She was his only apprentice, and her betrayal was met with much anger. Darth Nihilus wielded a self-built lightsaber containing a red crystal.

Limited edition: TBD



With great pleasure, PBM Express announces an exclusive distribution agreement with Kidrobot Inc.
PBM Express will offer Kidrobot toys and collectibles to customers throughout Europe.

Kidrobot is known worldwide as a premier creator of limited edition toys, apparel, media, and lifestyle products. The brand fuses street trends
with creative design, fine art and media, to produce collectible pieces of art.

Kidrobot was founded in 2002 by Paul Budnitz, specializing in artist-created toys and imports from Japan, Hong Kong, and Europe.
Most items are produced in limited numbers and are, or become, collector's items.
Sam Fisher & Claptrap Figure First Looks From NECA

Today we bring you a first look at some upcoming video game based figures from NECA.

First up is a Sam Fisher figure which is based on the Tom Clancy's Splinter Cell: Conviction game from Ubisoft. The figure will have a removable flak jacket and trifocal gogles. Shown is an unpainted prototype of the figure.

Next is a look at a figure based on the "Borderlands" video game from Gearbox Software. This figure is of the CL4P-TP Ninja Assassin robot, also known as Claptrap.



Source: www.toynewsi.com



The long awaited PBM Express Republic Commando: Delta Squad Boss exclusive bust is in stock!

As the invasion begins, The Republic Commandos (shipping 4th quarter) will be offered to 4 locations across the globe. PBM Express has been granted the exclusive rights to Boss, the main character from the videogame series.

Delta Squad was an elite heavily armored clone commando unit that carried out demanding missions for the Grand Army of the Republic during the Clone Wars. The unit played instrumental roles in the Battle of Geonosis as well as in the lead up to the Battle of Kashyyyk. Consisting of four hardened, well trained commandos;

BOSS, also known as RC-1138, and Delta-38, was a clone commando in the Grand Army of the Republic during the Clone Wars and Imperial commando of the Imperial Army. He was nicknamed Boss by his fellow clones, and was the sergeant of Delta Squad.

Boss - The Netherlands - (1,300) Edition size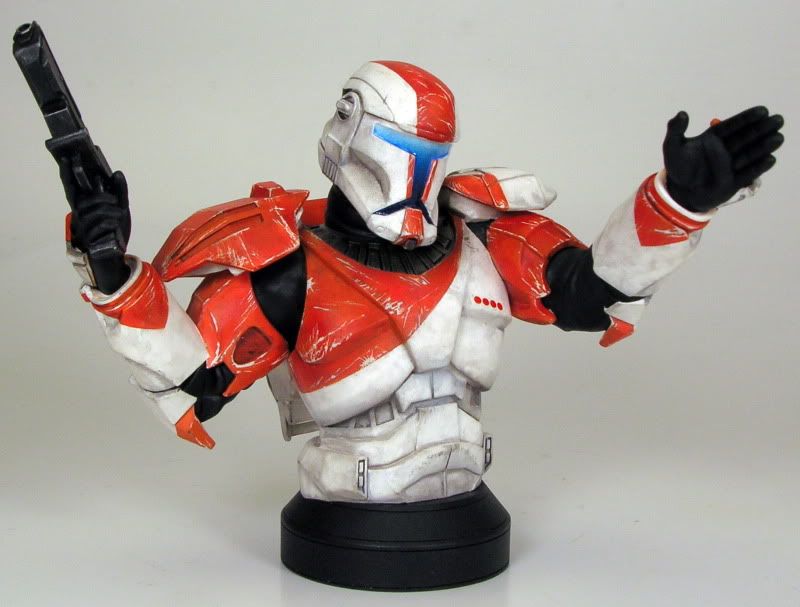 Long awaited James Cameron's Avatar in cinema's this week!

Avatar, is an American 3-D science fiction epic film written and directed by James Cameron, and was released on December 16, 2009 by 20th Century Fox. The film is co-produced by Lightstorm Entertainment,
and focuses on an epic conflict on Pandora, an inhabited Earth-sized satellite of Polyphemus, one of three fictional gas giants orbiting Alpha Centauri A.
On Pandora, human colonists and the sentient humanoid indigenous inhabitants of Pandora, the Na'vi, engage in a war over the planet's resources and the latter's continued existence.
The term "Avatar" comes from the Sanskrit word Avatāra, which means "descent" or "form of oneself".



The film will be released in 2D and 3D formats, along with an IMAX 3D release in selected theaters. The film is being touted as a breakthrough in terms of filmmaking technology, for its development of 3D viewing and stereoscopic filmmaking
with cameras that were specially designed for the film's production. The film has been rated PG-13
by the United States MPAA for "intense epic battle sequences and warfare, sensuality, language and some smoking".
In A.D. 2154, the story's protagonist, Jake Sully (Sam Worthington), is a former U.S. Marine who was wounded and paralyzed from the waist down in combat on Earth. Jake is selected to participate in the Avatar program,
which will enable him to walk. Jake travels to Pandora, a lush and sentient-inhabited jungle-covered satellite of Polyphemus, one of three gas giants that orbit Alpha Centauri A, 4.3 light years from Earth.

Pandora's biosphere is filled with incredible life forms, some beautiful, many terrifying. This world is also home to the Na'vi, a sentient humanoid race, who are considered primitive yet are more physically capable than humans.
Standing three meters tall with tails and sparkling blue skin, the Na'vi live in harmony with their unspoiled world.
As humans encroach deeper into Pandora's forests in search of valuable minerals, the Na'vi unleash their formidable warrior abilities to defend their threatened existence.

Directed by James Cameron

Starring Sam Worthington
Zoë Saldaña
Stephen Lang
Michelle Rodriguez
Giovanni Ribisi
Sigourney Weaver

Music by James Horner

Studio Lightstorm Entertainment
Distributed by 20th Century Fox
Release date(s) December 16, 2009 (World premiere)
December 17, 2009 (Puerto Rico, Australia & New Zealand)
December 18, 2009 (USA)

Running time 161 minutes

Country United States

Budget $237 million
Source:Wikipedia
Jazwares, Inc. Captures The A-Team

Jazwares, a leader in the licensed products marketplace, has been tapped by Twentieth Century Fox Licensing & Merchandising (Fox Licensing) to develop an extensive toy line for the upcoming feature film The A-Team. The launch of the Jazwares product line, which includes action figures in various sizes, vehicles, and electronics, will coincide with the movie's release in June 2010.

"The release of The A-Team film will introduce a new generation of fans to the heroes of the popular series," said Laura Zebersky, executive vice president sales, Jazwares. "The A-Team is a part of pop culture history and we look forward to playing a role in its return."

"Jazwares is part of the 'A-Team' of licensees we've assembled to work on the merchandising program for this fantastic property," said Lora Cohn, VP of Fox Licensing. "We are confident that both old and new fans alike will be pleased by what Jazwares introduces to retail."

The Jazwares toy line will include 3 ¾" action figures in an A-Team assortment and villain assortment, 12" B.A. Baracus and Hannibal Smith collector figures with voice chips, an electronic A-Team van for the 3 ¾" figures, plus other retailer exclusive packs. The product line will also include electronic items such as Walkie Talkies, an alarm clock and digital camera.

The A-Team follows the exciting and daring exploits of Hannibal Smith and his colorful team of former Special Forces soldiers who were set up for a crime they did not commit. Going "rogue," they utilize their unique talents – and eccentricities – to try and clear their names and find the true culprit.

Liam Neeson, whose many credits include the Oscar-winning Schindler's List and the recent box office hit Taken portrays Hannibal Smith, a master planner of inventive missions requiring split-second timing, unusual skills and a team of incredibly proficient and eccentric soldiers; Bradley Cooper, who shot to movie superstardom in the smash comedy The Hangover, is Templeton "Face" Peck, who can procure anything for the Team's unorthodox and daring activities; Quinton "Rampage" Jackson, a professional mixed martial artist and a top rated UFC light heavyweight, is B.A. Baracas, the Team's driver and muscle; and Sharlto Copley, who stars in the surprise summer hit District 9, is H.M "Howling Mad" Murdock, a gifted pilot – and certified loon. Jessica Biel (The Illusionist) stars as Capt. Charisa Sosa, a former love interest of Face's, but who's now relentlessly pursuing the Team for a crime not of their doing. Patrick Wilson (Watchmen) is Lynch, a mysterious CIA operative who is a key player in the Team's most explosive mission.
Source: www.toynewsi.com

'Percy Jackson & the Olympians: The Lightning Thief' Trailer

It's the 21st century, but the gods of Mount Olympus and assorted monsters have walked out of the pages of high school student Percy Jackson's Greek mythology texts and into his life. And they're not happy: Zeus' lightning bolt has been stolen, and Percy is the prime suspect. Even more troubling is the sudden disappearance of Percy's mother. As Percy adapts to his newly discovered status as a demi-god (his father is Poseidon), he finds himself caught between the battling titans of Mt. Olympus. He and his friends embark on a cross-country adventure to catch the true lightning thief, save Percy's mom, and unravel a mystery more powerful than the gods themselves.
Source: enewsi.com

PBM Express is proud to announce the worldwide exclusive distribution for the Halo polystone bust series by One 2 One Collectibles.
Each of these polystone busts (hand sculpted by Peter Mook), is presented in a 1:2 scale
and stands at an imposing 30 cm. or 12" tall.
With gold plated visor and display base decorations, the series' iconic Mk. VI Mjolnir Armor is presented in three different
color variations. Each piece is made in an extremely limited edition size, with only 350 pieces worldwide
for the Master Chief and 250 pieces for each of the two multiplayer colors red and blue.
The Halo busts are packed inside a moulded foam interior, ready for safe shipment, in beautiful full-color box with authenticity card.
Available early 2010.
Prince of Persia: The Sands of Time movie trailer released:
Set in medieval Persia, the story of an adventurous prince who teams up with a rival princess to stop an angry ruler from unleashing a sandstorm that could destroy the world. Which is why after the prince was tricked by a dying Vizier to unleash the Sands of Time that turns out to destroy a kingdom and transforms its populace into ferocious demons. In his effort to save his own kingdom and redeem his fatal mistake, it's up to the prince and the princess to return the sands to the hourglass by using the Dagger of Time, which also gives him a limited control over the flow of time.


Source: IMDB

PBM Express is proud to present this lifelike replica of the Starfleet Mark IX Science Tricorder by eFX Collectibles.
Essential equipment for Starfleet personnel, the tricorder is a versatile and portable, handheld scanning device that has proven to be invaluable to crew members whether on a starship or an away mission.
Capable of performing scans, analyzing data and sharing it quickly and efficiently with other devices, starships or Starfleet command, the tricorder has other valuable functions. It can record trials, play holographic messages and its universal translator allows it to communicate with non-Starfleet computer systems.
It can even sync with other units to form a complex and powerful computer network.
The TR-590, or Mark IX Science Tricorder, replaced the TR-580 as standard issue equipment.
It retains all of the functions of its predecessor and delivers more in a smaller, more streamlined design.
• Digitally scanned and modeled from original patterns supplied by the prop maker
• Brent Spiner (Lieutenant Commander Data) Signature Edition Plaque
• High quality die cast and injection molded plastic construction
• Original sound & LED effects
• eFX Custom Display Base
• Custom Tricorder Stand
• Certificate of authenticity
• Worldwide edition size yet to be determined (not to exceed 1000 pieces)
Neca Collectibles announces new videogame based figures for beginning of 2010.
Dante's Inferno
Dante's Inferno is an upcoming third-person action video game to be published by Electronic Arts for Playstation 3 and Xbox 360, in development by Visceral Games. The game, currently set to be released in February 2010, has been described as following a similar concept to the God of War series released for Sony Playstation. Just as the aforementioned game was loosely based on ancient Greek mythology, so is Dante's Inferno based on the classic Divine Comedy, a well known epic poem written in the 14th century by Dante Alighieri.
The player controls Dante, a veteran of the Crusades, who chases his beloved Beatrice and frees her soul from Lucifer.
As his pursuit takes him through the 9 Circles of the Inferno to Beatrice, he will battle monsters and face his sins, his family past and his war crimes.
Army of Two: The 40th Day
The 40th Day is the upcoming sequel to the highly acclaimed third person shooter video game developed by Electronic Arts, released on PlayStation 3 and Xbox 360. Just like its first installment, the sequel, scheduled to be released in January 2010, focuses on cooperative strategies. The series' unique feature are the necessity to use coordinated teamwork to accomplish goals. While the games are meant to be played with another human as a partner, a "Partner Artificial Intelligence"(PAI) is also included and programmed to follow the player's strategies.
The player characters:
Tyson Rios: SSC operative, Salem's partner, former U.S. Army Ranger. Raised in a tough neighborhood in Brooklyn,
Rios is a level-headed natural leader who tempers Salem's arrogance and impatience with his intuition and caution.
Elliot Salem: SSC operative, Rios' partner, former U.S. Army Ranger. A "gang-banger" from Louisiana, Salem is a morally-flexible and hot-headed gambler, party animal, and spendthrift who likes to take risks and get into trouble.
BioShock 2
The highly anticipated sequel to BioShock by 2K Games is set to be released in January 2010 for Playstation 3, Xbox 360 and PC. Set in an alternate history around 1960, the game takes place in the haunting underwater city of Rapture, populated by mutated beings and mechanical drones. The game series incorporates elements found in role-playing and survival games, and is described by the developers and Levine as a spiritual successor to their best selling System Shock series.
The new game places the player in control of the first Big Daddy, a race of former human beings who have had their skin and organs directly grafted into atmospheric diving suits, armed with either a rivet gun or heavy drill. They roam the underwater dystopian city of Rapture, mentally conditioned to protect the Little Sisters - little girls that harvest a substance called ADAM from corpses.
One of the new game's major enemies is the Big Sister, a being that resembles a Big Daddy, except smaller and much faster.
The National Entertainment Collectibles Association, Inc. (NECA) has purchased the majority of the assets of WizKids, Inc. from The Topps Company, Inc., including the award-winning Clix family of games, which includes HeroClix, ActionClix, HorrorClix and SportsClix. NECA will also acquire the WizKids brand, the Pocketmodel Game family of games, including the Pirates of the Crimson Coast, Pirates of the Spanish Main and Pirates of the Cursed Seas games, and the Mage Knight line of games.

The assets of WizKids that were purchased by NECA have been transferred to a wholly owned NECA subsidiary operating out of its offices in Hillside, New Jersey, which will operate under the WizKids name.

Clix pioneered the collectible miniature category and HeroClix has been the leading collectible game in the comic genre since its 2002 debut, due to its innovative game platform and deep collection of characters from the respective worlds of Marvel and DC Comics. NECA will continue the successful HeroClix product lines from powerhouse brands DC Comics and Marvel.

The Pocketmodel Game family of games includes the Pirates of the Cursed Seas PocketModel Trading Card Game, which is the latest in the successful line of Pirates card games that has run since selling out its first run in 2004.

"WizKids has created the best games within the collectible miniature and constructible genres and NECA is proud to help continue this great legacy," said Joel Weinshanker, President and CEO of NECA. "The HeroClix engine is the envy of the industry and many companies have attempted to emulate it without success. We're thrilled to deliver HeroClix to the gamers."

NECA has hired Lax Chandra, who ran the WizKids subsidiary for The Topps Company, to be the President of NECA's newly formed subsidiary, which will operate under the WizKids name. Former WizKids employees Chas Delong, Wade Sugiyama and Mike Elliott have also been brought on to help with the transition.

In the coming days and weeks, the new WizKids company will make further announcements about upcoming release plans.
Source: marvelousnews.com

Long awaited 80's cartoon and toy line inspired action movie GI: Joe: The Rise of Cobra, has been released in cinema's worldwide.
The movie sees the live action debut of many fan favourite characters, such as Snake Eyes, Scarlett (pictured below), and more!

With more and more advanced techniques used for manufacturing figures and replica's, let this example of Christian Bale as John Connor in the recent Terminator Salvation amaze you. Note that one of these pictures is the figure!

Over the years Gentle Giant has received many requests for the Delta Squad Clone Troopers from the Lucasarts video game Republic Commando. So it comes with great pleasure that we can grant the wishes of our dedicated Star Wars collectors world wide!
As the invasion begins, The Republic Commandos (shipping 4th quarter) will be offered to 4 locations across the globe. PBM Express has been granted the exclusive rights to Boss, the main character from the videogame series.

Delta Squad was an elite heavily armored clone commando unit that carried out demanding missions for the Grand Army of the Republic during the Clone Wars. The unit played instrumental roles in the Battle of Geonosis as well as in the lead up to the Battle of Kashyyyk. Consisting of four hardened, well trained commandos;

BOSS, also known as RC-1138, and Delta-38, was a clone commando in the Grand Army of the Republic during the Clone Wars and Imperial commando of the Imperial Army. He was nicknamed Boss by his fellow clones, and was the sergeant of Delta Squad.

Boss - The Netherlands - (1,300) Edition size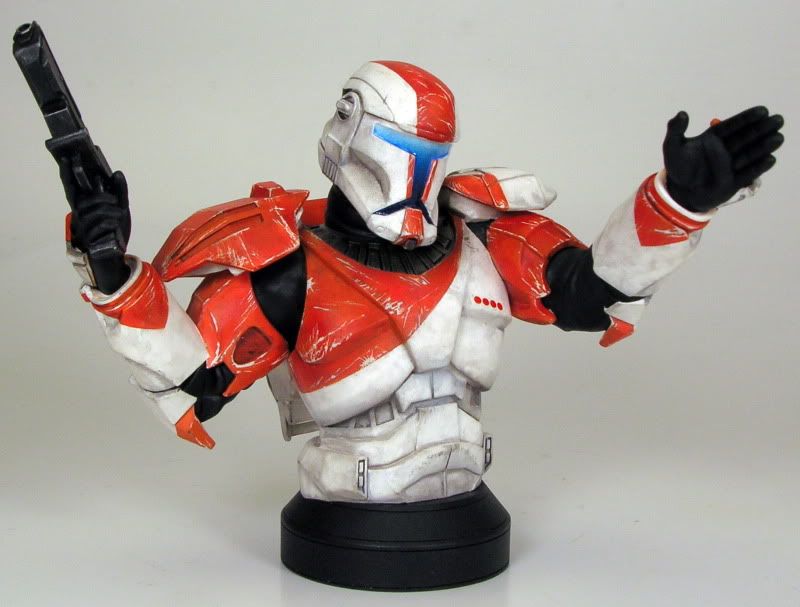 The latest issue of Empire Magazine features new photos from Disney's big screen adaptation Prince of Persia: The Sands of Time. Check out the images in our gallery below and the remaining images at Empire Magazine.
Mike Newell's film tells the story of an adventurous prince named Dastan who teams up with a with Tamina (Gemma Arterton), a feisty and exotic princess, to prevent a villainous nobleman from possessing the Sands of Time, a gift from the gods that can reverse time.

Prince of Persia: Sands of Time will hit theaters on May 28th 2010.

Source: EW.com (Entertainment Weekly)

The new images are revealed of the new World of Warcraft series 6 assortment.

the assortment includes:
Goblin Tinker: Gibzz Sparklighter
Dwarven King: Magni Bronzebeard
Forsaken Queen: Sylvanas Windrunner
Source: toynewsi.com
For Jake Gyllenhaal, playing Prince Dastan in Jerry Bruckheimer's epic Prince of Persia: Sands of Time, due May 28, 2010, was a chance to get into some serious action. (Paparazzi photos of Gyllenhaal on-set have appeared previously, but this is the first official shot of him in character.) "I'm tired of taking myself so seriously," says the actor, who found himself sword-fighting, climbing walls, and jumping off of buildings as part of the prince's quest to find an enchanted dagger and turn back time. "It's nice when a stuntman turns to you and is like, 'Actors don't normally do this.'"
Source: EW.com (Entertainment Weekly)

The sixth installment of the wildly successful
Harry Potter
series conjured up an estimated $79.5 million for its opening weekend at the box office, putting its first five days at an impressive $159.7 million--a franchise best. But even with its family-friendly PG rating,
Harry
left some room out there for other kid-oriented fare, specifically
Ice Age 3: Dawn of the Dinosaurs
, which in its third weekend dropped a scant 36% to $17.7 million. Its total gross now stands at $152 million.
Transformers: Revenge of the Fallen
also held on remarkably well, falling a solid 43% to $13.7 million. The Michael Bay-directed juggernaut's four-week gross has now reached $363 million.
There was little room -- or much love, for that matter -- for Sacha Baron Cohen's Bruno. Unlike Borat, which in its second weekend increased 7% when the studio added a thousand theaters, Bruno fell like a stone, losing 73% of its first weekend value for an additional $8 million. Its 10-day gross now stands at $49.5 million. Rather, audiences chose to stick with the comedy The Hangover, which in its seventh weekend in theaters fell only 16% to $8 million. One of summer's most unlikely success stories now boasts a total take of $235 million.
Fox Searchlight seems to have another hit on their hands with the indie romantic comedy (500) Days of Summer starring Zooey Deschanel and Joseph Gordon-Levitt. Opening in a limited 27 theaters, the film grossed $837,588 for a per-screen average of $31,022. Between Harry, Transformers and The Hangover, 2009's summer is up close to 4% from last year, even though this weekend was off a huge 39% due to comparisons to last year's The Dark Knight which opened to the biggest opening ever last year at this time

Source: EW.com (Entertainment Weekly)

Walt Disney Animation Studios has released a batch of new images from The Princess and the Frog. This is Disney's return to hand-drawn animation, a new take on E.D. Baker's novel The Frog Princess. Check out the images in the gallery and the teaser trailer below.

The Walt Disney Studios continues its fairy tale legacy in animation by taking moviegoers on an all-new "once upon a time" musical adventure. Set in the legendary birthplace of jazz – New Orleans, The Princess and the Frog will introduce the newest Disney princess, Tiana, a young African-American girl living amid the charming elegance and grandeur of the fabled French Quarter. From the heart of Louisiana's mystical bayous and the banks of the mighty Mississippi comes an unforgettable tale of love, enchantment and discovery with a soulful singing crocodile, voodoo spells and Cajun charm at every turn.

Featuring the voices of Anika Noni Rose (as Princess Tiana), Oprah Winfrey, Keith David, Jim Cummings, John Goodman, Jenifer Lewis, Bruno Campos, Michael-Leon Wooley, Peter Bartlett and Terrence Howard. Directed by and based on an original story written by Disney's acclaimed filmmaking duo John Musker & Ron Clements (The Little Mermaid, Aladdin, Hercules). Scored and music written by Oscar®-winning songwriter/composer and New Orleans native Randy Newman (Toy Story, Monsters, Inc.).

The Princess and the Frog hits theaters with a limited run in New York and LA starting on November 25th, followed by a wide release on December 11th.
Source: www.enewsi.com

DC Unlimited reveals the World of Warcraft Premium series 2!

The 2nd assortment in the World of Warcraft Premium series is expected for early 2010 and features all new characters from
the popular online roleplaying game!

Gnome WarlockValdremar with Voidwalker Voyd (3.5" and 6" in height)
Fighting to reclaim their lost subterranean city of Gnomeregan, some of the gnomish tinker race dabble in forgotten magics granted powers beyond imagining.
Summoned from the infinite depths of the Twisting Nether, the Voidwalkers are former servants of the Burning Legion, bound to their new master with powerful incantations.


Orc Warchief Thrall (10" in height)
A former captive of the Lordaeron internment camps, the Frostwolf Orc Thrall led his people back to embrace the shamanistic ways of old.
Clad in the sacred armor of his ancestors and wielding the enchanted battlehammer of his predecessor Orgrim Doomhammer, Thrall fulfilled the
prophecy when he became the new Warchief of the Horde.
NECA reveals Gears of War series 4 mystery figures!
Neca announced that the two mystery figures for the Gears of War serie 4 assortment will be Marcus and Dominic in Theron disguise.
These two figure will be based on the upcoming downloadble mission "Road to Ruin".
In this mission Marcus and Dom return to the Locust Hollow in a scene that can be played two ways, guns blazing or in all-new stealth mode.
YAMATO ANNOUNCES 2 NEW FIGURES FOR THE FANTASY LINE.
After Akira and The Sacrifice by Doirian Cleavenger and Medusa's Gaze by Luis Royo.
Yamato is proud to announce the next two figures in line.
Monica's Axe and Golden Lover by Boris Vallejo and Jullie Bell will be joining this great fantasy line.


These items will become available to pre-order later on this month.
Don't miss out on these great figures!

Out of this world! The Mail's film critic gives his verdict on the new Star Trek movie
The entertainment business thrives on surprises, as has been proven once again by the sudden elevation to stardom of Susan Boyle on Britain's Got Talent.

And there has been no bigger surprise for me this year than this movie.

Like many people, I yawned at the thought of yet another attempt to breathe life into a series that seemed finished, after the pompous, pointless and all too aptly named Star Trek: Nemesis in 2002.

Young cast: 1. Anton Yelchin (Chekov) 2. Chris Pine (Kirk) 3. Simon Pegg (Scotty) 4. Karl Urban (McCoy) 5. John Cho (Sulu) and 6. Zoe Saldana (Uhura)
The original cast had long gone, and the ideas had dried up. Why try to reanimate a corpse?
The short answer is that J.J. Abrams had come up with a tremendous idea, inspired no doubt by the success of Batman Begins and Casino Royale, both of which had reinvigorated tired franchises by recasting and going back to basics.
The result is not only by far the best of the 11 Star Trek movies, it must rank as the outstanding prequel of all time.

For those too young to remember the original TV series and its spin-off movies, or (like me) unconvinced that they were in all respects works of untrammelled genius, the movie ticks all the boxes as regards big set pieces.
The original cast (L-R): 1. Walter Koenig 2. William Shatner 3. James Doohan 4. Deforest Kelly 5. George Takei and 6. Nichelle Nichols

We see space battles, planets sucked into black holes, chases, space aliens. Stupendous special effects and a magnificent score by Michael Giacchino make it a treat for the eyes and ears.

The picture moves at a terrific pace, and is a satisfying tale of good versus evil, with Eric Bana a highly hissable villain.

He's the Romulan Nero, bent on avenging the destruction of his planet by blowing up first Vulcan, and then Earth.

The Australian actor is virtually unrecognisable in the role, and confirms my suspicion that, though he struggles to carry a movie as a leading man (proved most notably in Hulk), he is a first-rate character actor.
Star Trek
Like all the best villains, Nero is driven by a belief that he is in the right, and makes a fearsome adversary.

The script feels remarkably fresh, no small achievement in itself, and takes an ingenious turn with the introduction of a time travel theme, and a highly effective reappearance of 78-year-old Leonard Nimoy, who was of course the original Spock and brings considerable dignity and grace to his scenes, which are far more than cameos.
This is space opera on a mythic scale, and it's stirring stuff.

The immense grandeur of the imagery bodes well for anyone who chooses, in the wake of this movie's inevitable success, to go back into the history of the franchise, and marry some of its better script ideas to 21st century technology.
Freefall: Olsen, Sulu and Kirk plummet towards the ground... but will they all survive?
After the artistic disappointment of George Lucas's Star Wars prequels, with its terrible dialogue and worse acting, this movie really does promise a creative re-birth of science fiction adventure.
The revelation for many will be the way the screenplay honours the original characters created by Gene Roddenberry in the sixties, and gives them a moving and satisfying back-story.

Rightly, it centres on the initial dislike and rivalry, followed by respect and friendship, of the all-American, Hell-raising space rookie James Tiberius Kirk (played with real dash and charisma by Chris Pine), and the austere, apparently unemotional half-human, half-Vulcan Spock (a remarkably subtle and touching performance by Zachary Quinto).
We also get to see the formation of the rest of the crew of the USS Enterprise, and they're all splendidly played with real affection and understanding of the TV originals.
A dramatic moment for Kirk in the film, which also features spectacular skydiving from space sequences
Karl Urban captures the virile loyalty and determination of the ship's Medical Officer Leonard "Bones" McCoy.

The attractive Zoe Saldana is strong and sympathetic as the language expert, Uhura.
Simon Pegg provides late comic relief as Scotty, who becomes the chief engineer. Other, minor members of the crew also get their chance to shine.
Fans of the original series will not be disappointed. Throughout, there's just the right degree of reverence for the original, coupled with an attractive ability to poke fun at it.
For anyone who grew up with Star Trek, there's terrific resonance in the first time Kirk sits in the captain's seat on the USS Enterprise – and is abruptly ordered out of it – and satisfaction in watching the various characters and ingredients drop into place. It's an emotional experience.
New beginning: Fans will see the birth of Kirk in the prequel
One of the most refreshing – and surprising - aspects is how elitist it is.

Throughout, there is great emphasis on the fact that the crew members are not everymen.

Each is a talented individual who has knuckled down to serious training and passing rigorous exams with the highest honours.
It is one of the few movies I have seen in recent years which has celebrated intellectual endeavour, the informed weighing up of risks, the taking of responsibility. It is, well nigh uniquely in modern Hollywood, grown-up.
It's easy to remember which of the original Star Trek movies were good.

The even-numbered ones were all fun, with numbers VI and VIII the best of the lot, until they reached Star Trek X, which was dreadful. The odd-numbered ones were pretty boring.
Hold on: Starfleet cadet Kirk hangs on to the platform after his skydive
At its worst, the franchise got bogged down in impenetrable jargon and pretentious ideas ponderously expressed.
It started way back in 1966, and by the time the films came along in 1979, many of the original cast were long in the tooth.

When Lieutenant Uhura performed the dance of the seven veils in Star Trek V: The Final Frontier (1989), she looked as though she was taking part in a glamorous granny competition, and some male members of the cast acted as though they had been semi-embalmed by a negligent mortician.
Twenty years on, I predict that we are about to see an explosion of interest in the original series.

And, on this evidence, a young and dynamic cast of actors are set to boldly go where no other movie series has gone before: into a new series of Star Trek stories with a prodigious new lease of life. Welcome back, you Trekkers.

Verdict: A new beginning for the Star Trek franchise
Source: www.dailymail.co.uk

Long awaited Legend of Zelda: Ocarina of Time statue on schedule for a summer 2009 release

The Legend of Zelda: Ocarina of Time is a 1998 action-adventure video game developed by Nintendo for the N64 video game console.
Ocarina of Time is the fifth game in The Legend of Zelda series in terms of release, but is set before the first four games.
The player controls the series' trademark character Link, in the land of Hyrule. Link sets out on a quest to stop Ganondorf, King of the Gerudo, from obtaining the Triforce, a sacred relic that grants the wishes of its holder. Link travels through time and navigates various dungeons
to awaken sages who have the power to seal Ganondorf.
Music plays an important role - to progress, the player must learn to play and perform several songs on an ocarina.

Ocarina of Time's gameplay system introduced features such as a target lock system and context-sensitive buttons that became common elements
in many 3D adventure games afterwards .It sold over 7.6 million copies worldwide and received extremely positive reviews.
The game is considered to be one of the most influential or greatest games of all time.
PBM Express gains exclusive European distribution rights for the Back To The Future 2 Delorean Mk2 Exclusive 1:18 Replica

Featuring the all-new design as seen in Back to the Future II, this variation of the classic DeLorean includes new hover conversion wheel designs, Mr. Fusion to power the Flux Capacitator as well as other modifications. Also features updated sound and light effects from the classic sequel!
This 1:18th scale replica measures 14" in length and features working light and sound effects from the classic sequel. Back to the Future is one of the 1980s' most memorable science-fiction film trilogies, where the stylish DeLorean car was transformed into a time-traveling machine. This replica is made of plastic. Runs on 3x AA batteries (included).
Kotobukiya announces Ayrton Senna fine art statue

PBM Express is proud to present the detailed Ayrton Senna sculpture by Kotobukiya.
This 12" statue features a perfect likeness to the threefold Formula-1 world champion, immortalized in victory pose at the 1993 Suzuka Grand Prix.
Ayrton Senna includes a base with metal nameplate and signature. Each piece includes a certificate of authenticity.

This magnificent statue has been sculpted under full support from the Ayrton Senna Institute, the official foundation run by the family of the late Ayrton Senna. As a part of the institute's charity work, part of the profit made from this product will be sent to the children in need of schooling.

The successful Brazilian Formula-1 driver Ayrton Senna (São Paulo, 21 March 1960 - Bologna, 1 May 1994) held the Grand Prix world champion title three times, over a nine seasons timespan. During his GP career, he appeared in 161 races, and was the first to cross the finish line in 41 of them.
Ayrton Senna died in a tragic accident during the 1994 San Marino Grand Prix.
His death caused a lot of commotion in the racing circuit, and resulted in a an strict tightening of the rules and regulations concerning safety precautions.
After his tragic death in San Marino, no other Formula-1 driver lost his life during a Grand Prix again.


Neca announces Prototype action figure

Prototype is an upcoming sandbox-style action game in development by Radical Entertainment. The game is stated for release in June of this year for
Microsoft Windows, Xbox 360 and the PlayStation 3.
A key aspect of Prototype is the 'disguise and destroy' concept which is tied to the protagonist's enemy-consuming and
shapeshifting powers. The player character is able to consume the bodies of those he has beaten and killed,
giving him access to their memories, their experiences, their biomass and their physical forms.
The character can also shapeshift into more specialized forms for attack, defense or sensory enhancement.
All of these together are intended to give players multiple ways to complete their objectives.

Neca has released a detailed action figure based on this highly anticipated new release.

The Monsters Vs Aliens CGI movie has just been released in cimema's world wide, and is an astonishing success!
As a first in the genre, the movie is completely recorded in 3D, instead of being edited and retouched afterwards.
This makes for a spectacular and unforgettable viewing experience.

Monsters Vs Aliens tells the story of Susan Murphy, who transforms into a huge monster after getting into contact with an alien substance.Taken captive by the army, she is transported to a secret base, where she meets other "monsters".
When an alien invasion fleet launches an attack on earth, general W.R. Monger convinces the president to
use their captured monsters against this new threat, and surely delivers a spectacular action movie!


Actors like Reese Witherspoon and Kiefer Sutherland provided their voices for the diverse and extravagant characters.
PBM Express will distribute a new line of detailed action figures by Manley Toys, based on this amazing new animation movie!
Millions of science fiction fans across the world hold their breath in anticipation, as this May will see the release of the highly anticipated 11th Star Trek movie. Set in the not-so-distant future, the latest installment in the groundbreaking science fiction series aims to narrow the gap between the present day and the "future', as portrayed convincingly
in the numerous Star Trek movies before it.
Essentially being a prequel, the movie will reproduce the cast from the original series, using today's leading actors and advanced CGI technology to make it what promises to be an unforgettable experience for both long time Star Trek fans and newcomers to
the franchise alike. An interesting fact is, original series' actor Leonard Nimoy will play the role of the "old" Spock,
who comes from the future to aid the fledgling starship crew. The movie will tell the tale of the starship USS Enterprise taking flight for the first time, and the subsequent encounter with the Romulan people.
As with most Star Trek releases, a wide range of collectible merchandise will be available for fans and collectors alike, available from well known manufacturers such as Playmates.
PBM Express.will stock a wide range of toys and collectibles based on this most eagerly awaited
theatrical cinema release of the year!
Kotobukiya cancels release of the Indiana Jones & the Last Crusade ARTFX Theatre.

Kotobukiya announced today, that due to various reasons, they decided to cancel the release of the Indiana Jones & the Last Crusade ARTFX Theatre.
The item was originaly planned to be released in November.
The 4th World of Warcraft action figure collectibles from DC Unlimited have just been announced!

This new assortment is unlike the previously released series of World of Warcraft figures. The characters depicted in
Series 4 are the first figures to go beyond the regular playable characters and explore the diverse inhabitants of the World of Warcraft
that all players encounter.

Amberlash is a Succubus, a female demon both used as helper pet by the Warlock class, or encountered as an enemy.

Fish-eye and Gibbergill (sold in a 2-pack) are Murlocs, a fish-like race found abundantly throughout gameplay.
Murlocs are known to many players to be endearingly annoying pests.

The Gnoll race is represented by Gangris Riverpaw, of the Riverpaw Gnolls. Gnolls are hyena-like humanoids found
throughout game-play at many different levels.

Also an entire new character group, the Tuskarr, makes its appearance with the Tavru Akua figure.
This race of walrus-like humanoids will make its in-game debut in the highly-anticipated game expansion, Wrath of the Lich King.

The last character to join the deluxe collector figure line is Lady Vashj, the Naga Sea Witch.
Her character has roots deep within the Warcraft lore, most recently serving Illidan Stormrage (Deluxe Collector Figure #1).
She has a medusa-like visage, with each snake intricately sculpted and painted as her hair.
Lady Vashj is one of the in-game raid bosses added in the last World of Warcraft expansion, The Burning Crusade.
It takes 25 players together to defeat her at the end of one of the most treacherous instances of the game.

Watch your mailbox for our upcoming newsletter on this highly anticipated new series!




These are todays cancellations!

CANCELLATIONS


SS900066 Captain America Shield 1940 Replica Scale 1:1
SS900067 Captain America Shield 1960 Replica Scale 1:1


SIL1168 My Wedding Plan 3 - Angelica Rotosiruto (blue armor)
SIL1175 My Wedding Plan 3 - Angelica Rotosiruto (purple armor)
Ghostbusters die-cast Ecto 1 cancelled!

The ERTL33538 Ghostbusters Ecto 1 Cadillac 1:18 Diecast Model has been cancelled by our supplier.
We will not get any stock of them any more.
Products Delays & Cancelations 10-7-2008
Canceled!

SS6911 Chronicles of Riddick Lord Marshal Bobble Head
KTO21 Armored Core Crest CR-C06U5 Fascinator Model Kit
JUN511 Death Note Vinette Figure Diorama

Delayed!
| | | | |
| --- | --- | --- | --- |
| | | old ETA | new ETA |
| SQ052 | Valkyrie Profile Sculpture Arts Lenneth Valkyrie | 30-7-2008 | 30-11-2008 |
| SS83331 | Terminator 2 T-800 Endoskeleton Life Size Bust Combat Veteran | 30-6-2008 | 30-8-2008 |
| SS8318 | Terminator 2 T-800 Life Size Bust 1:1 | 30-7-2008 | 30-8-2008 |
| MCF11550 | Spawn series 35: Robot Wars asst. | 30-12-2008 | 30-1-2008 |
| HC353 | Rambo: First Blood - 25th Ann. knife replica | 30-4-2008 | 30-8-2008 |
| HC354 | Rambo: First Blood - Signature knife replica | 30-4-2008 | 30-8-2008 |
| HC355 | Rambo: First Blood - Standard knife replica | 30-4-2008 | 30-8-2008 |
| HC356 | Rambo: First Blood II - Signature knife replica | 30-4-2008 | 30-8-2008 |
| HC357 | Rambo: First Blood II - Standard knife replica | 30-4-2008 | 30-8-2008 |
| HC358 | Rambo III - 20th Ann. knife replica | 30-4-2008 | 30-8-2008 |
| HC359 | Rambo III - Signature knife replica | 30-4-2008 | 30-8-2008 |
| HC360 | Rambo III - Standard knife replica | 30-4-2008 | 30-8-2008 |
| KTO00SW33 | Star Wars Royal Guard ART FX Statue | 30-4-2008 | 30-7-2008 |
| NECA46006 | Grindhouse Stuntman Mike 7" AF | 30-8-2008 | 30-9-2008 |
| NECA60710 | Beetlejuice 7" Figure Solid | 30-7-2008 | 30-9-2008 |
| NECA46200 | The Princess Bride - Dread Pirate Roberts 7" Figure | 30-7-2008 | 30-9-2008 |
| NECA60711 | The Exorcist - Regan on stairs 7" Figure | 30-7-2008 | 30-9-2008 |
PBM Express will have technical maintenance on the databases and operating system on monday the 28th of July. Our office shall be closed during the day, as it involves all of our computer systems . We will be available for telephone calls, put please note that we will be unable to receive appointments or take orders. We expect the maintenance to take all day, we will be open for business again on tuesday the 29th. Thank you for your understanding. Best wishes, The PBM Express team.
Funko announces a change in SW: Darth Vader bobble-computer-sitter

Funko announced that the the Darth Vader 'Computer-Sitter' will NOT have a sound-chip and sculpt will differ slightly from the image on our website.

Funko announces a change in Southpark Exclusives

Funko announced that the SDCC Cartman Exclusive wil be traded for the Butters SDCC Exclusive!
This means if you ordered this item you can either change to Butters or Cancel your order(s).

McFarlane cancels more items!


Today McFarlane announced that the following 3 Series has been canceled.

The Legend of the Blade Hunters series 2 : MCF51230 and 3 : MCF51240 are canceled.
The Warriors of the Zodiac series 2 : MCF40135 and 3 : MCF40140 are also canceled.
The Dragons series 9 is also canceled.
Star Wars Evolution Packs Wave 1


These where cancelled by our supplyer. Our appologies to everyone who have ordered them.
McFarlane cancels Halo Vehicles series 3


McFarlane announced today that the Halo Vehicles series 3 (Item# 18250) have been canceled.
Terminator 2 Endoskull 1:1 delayed.

Due to some production problems in de factory, the Terminator 2 Endoskull 1:1 Regular from Toynami is delayed until August.
They now wil begin shipping somewhere in June.

Neca announced today the final ETA of 4 ComicCon exclusives products

This concerns the following items:
AVP Requiem - Predator Mid Cloak 7" Figure SDCC Excl.
Gears of War - Carmine 7" Figure SDCC Excl.
Conan the Barbarian with Bronze Finish 7" Figure SDCC Excl.
Teenage Mutant Ninja Turtles - Mouser 3 pack SDCC Excl.
The final ETA is now 30-8-2008
McFarlane's 3d movie poster re-stocks cancelled
Unfortunately, we were forced to cancel our eagerly awaited restock order for these McFarlane's 3D movie posters.
Usually, McFarlane products shipped to the PBM Express warehouse are made specifically to adhere to the European standards on materials used.
However, it turned out that this restock was not specifically tailored to be shipped to Europe, and as such we were unable to proceed with our order.
(05-'08) Castlevania figures by Neca are shipping in late August
The Castlevania figure assortment made by Neca is delayed till August.
This means if you ordered this item you will receive it late August.
Gentle Giant Announced today that 3 Statues have been canceled!
They decided to make the Animated Barbossa en the will Turner statues a website exclusive.
The 6.5" Star Wars R2-D2 Statue is canceled from all orders.

Sababatoys Delays The Muppets Plush till 2009
Sababatoys Announced today that the Muppets Plush will be delayed till 2009!
Dragonball Z Real Action Heroes
Not To Be Sold International
Sideshow announced today that they cannot sell the SS900009 Dragonball Z Son Goku RAH 12" and the SS900010 Dragonball Z Super Saiyan Son Goku RAH 12" internationally.

Therefore these items are removed from our website.
Because of low demands. McFarlane is unable to produce the 12" version of the Don Corleone figure from cult movie The Godfather.
And because of the "R" rating of the film they can't place this item in the mass market.
McFarlane Toys/McFarlane Worldwide decided to change the standard 12 pieces case pack to a standardized 8 pieces case pack.
This change will go in effect for all the assortments listed for fall 2008.
Samurai sword, banned in the UK.
The BBC anounced that Samurai sword are now official illegal in the UK.
Importing, selling and making them is now a crime.
Those who break this law, face six years in jail and a 5000 pounds fine.
The only exceptions for this are swords used in re-enactments events and
antique weapons kept on display by collectors.
Eight years ago a councillor was killed by a man wielding a samurai sword in the office of Cheltenham Liberal Democrat MP Nigel Jones.
Last month a group of young ones, attacked a 15-year-old boy in Newry, County Down.
The long awaited Legend of Zelda: Skull Kid resin statue is currently in advanced stages of production.
Click on the link below to see how the models are hand painted at the factory, to ensure the best possible quality.
      NECA has announced that the God of War: Poseidon's Rage 7" Figure will not go into

      Production due to scheduling issues.

      They are looking at opportunities to offer this or another Kratos figure somewhere

      in the future.
The Story is a magazine (380.000 p/week) sold in the Netherlands and Belgium.
Ubisoft announced the worldwide launch for the highly anticipated and critically acclaimed Assassin's Creed™ will be November 2007.
The Assassin's Creed franchise will make its debut on PLAYSTATION3, Xbox 360 and PC. Assassin's Creed is being developed by an all-star team from Ubisoft's world-class Montreal studio. As a testament to its pre-launch following and buzz, the latest Assassin's Creed gameplay trailer, released on May 23, exceeded more than 1.3 million downloads via GameTrailers.com in less than a week.

"Assassin's Creed is going to be a huge launch for Ubisoft this year along with the added prestige of being the start of this exciting new franchise that is bringing something completely new to the market," said Tony Key, vice president of marketing, Ubisoft. "We're confident that Assassin's Creed will exceed expectations as a 'must-have' title this holiday season and will achieve both critical and commercial success."
The game is set in 1191 AD, when the Third Crusade was tearing the Holy Land apart. Shrouded in secrecy and feared for their ruthlessness, the Assassins intend to stop the hostilities by suppressing both sides of the conflict. Players will assume the role of the main character, Altair, and will have the power to throw their immediate environment into chaos and truly experience the art of a master assassin.
Productinfo: PP022 / Assassins Creed Altair PVC Statue / ETA: 01-10-07
Press release
May 2007
Jack Sparrow isn't just a big screen hero anymore, the action figures based on the popular swashbuckler are finding their way to Pirates of the Caribbean addicts worldwide. Fans from all ages are amazed at the quality and detail on these miniature lookalikes. Nowadays, movie based action figures are available at many dvd- and videostores, taking them out of obscurity into the mainstream. The figures vary in size between 3" and 18", where the larger figures often include special features such as light or sound effects, sometimes activated by motion sensors within the figure. Edition sizes are often limited, making them fun to collect.
Jack Sparrow besides, his allies and enemies are also represented in small scale: Will turner, Davy Jones, Elizabeth Swann, Bootstrap Bill Turner, Captain Barbossa, Captain Norrington, Maccus, Palfico, Clanker, each character is rendered down to a highly detailed figure, including several key accessories from the movies.
Pirates of the Caribbean 3: At World's End hit the cinema's all over the world on May the 24th 2007.
The Bleeding Edge Goth dolls have a new family member, exclusive to PBM Express: Alindria Devour.
This Bleeding Edge figure was designed by Dave Baljon, account manager at PBM Express who named the doll after his girlfriend Alinde. Alindria is produced in a limited edition of 2000 pieces worldwide and ships in eye-catching blister packaging.
Productinfo:
BLE00999 / Goth Alindria Dark Devour 12" PBM World Exclusive AF
Full Name: Alindria DeVour
Pets: Black Dwarf Bunny named Elegast
Favorite Color: Orange
Likes: Counting stars, Korfball, "Het Wilhelmus" (has all 15 stanzas memorized!), Ice Skating, Within Temptation, M.C. Escher, collecting Delft Blaw, Cassis (blackberry), De Kameleon novels, flame throwers, making marionettes, krokets, hair falls/dreads, hot air balloons, Till Lindemann, Pantera Foundation, "Doodeind", moshing at roller rink, Hannie Schaft and dance metal.
Dislikes: Toothpicks, Segways, wind up toys, the sound of wind chimes, cheese (lactose intolerant), fruit in salads and Tulips.
The international version of the Scarface Bust can still be ordered.
The colors of this special edition are blue and white (the version which is currently sold out is in red & white). The total edition will only contain 150 pieces. The expected arrival of this very exclusive item is mid june 2007.
Productinformation:
SS2931 / Scarface Tony Montana 1:1 Life Size Bust 20"
God of War II: Kratos action figures now available!
PBM Express presents the first action figure based on the best selling Playstation 2 videogame God of War. Kratos is available in 2 different versions, each about 7" / 15 cm. in height.
Both are manufactured by Neca and presented in attractive blister packaging, featuring artwork and decorations inspired by the game.
The suggested retail price is € 17.95.
Collectible action figures offer a high quality 3D representation of various popular characters, based on movies, videogames and more.
They come in a variety of different sizes, ranging from a tiny 3" to an astounding 18" in height.
The use of advanced 3D rendering techniques makes for an amazing likeness of the portrayed character.
About God of War II
God of War II is an action packed game, set in the mythological ancient world. This epic game tells the story of the anti-hero Kratos, who ascended to godhood at the end of the first installment.
In this highly anticipated sequel, Kratos finds himself on his throne on Mount Olympus,
plagued by his memories of his murdered wife and children.
Bereft of his divine powers by Zeus, once more he sets out on a quest to exact his vengeance on those who wronged him.
PBM is doing the distribution for the EU of the DC World of Warcraft figures.
World of Warcraft, with approximately 7 million players the biggest Massive Multiplayer Online Role Playing Game worldwide, sets in a fantasy world, borrowing elements from various mythologies and other fantasy stories. PBM Express comes out with stunning plastic figures by DC Direct / DC Comics, based on characters from the immensely popular World of Warcraft game. A a lot of work has been put into making the characters as game-accurate as possible. The characters' sculpts, poses and paintwork are all extremely detailed. Each figure measures about 20 cm. in height and includes multiple accessories.
Series 1 contains these characters.
In the issue 2007-1 of the business magazine "De Zaak" an article was written on PBM Express.
Use the link to see the article on

p

age 

8 en 9
2007 will see the release of the highly anticipated movie The Simpsons.
Watch Trailer
Check our website for merchandise based on the longest running cartoon series of the USA.
2007 will see the release of the highly anticipated movie Teenage Mutant Ninja Turtles.
Watch Trailer
Check out our website for merchandise based on the Teenage Mutant Ninja Turtles movies and cartoons!
2007 will see the the release of the highly anticipated movie Shrek The Third.
Watch Trailer
Check out our website for merchandise based on the Shrek movies!
2007 will see the release of the highly anticipated movie Grindhouse.
Watch Trailer
Check out our website for merchandise based on this new Quentin Tarantino movie.
PBM Express will be exhibiting at the New York Toy Fair, which will be held from 11-15 February 2007.
You can see the hottest new releases at booth 5743.
To make an appointment, please contact
Paul Hartmann
Please visit
www.toyfairNY.com
for detailed travel and accomodation info.
PBM Express will be exhibiting at the Nürenberg Toy Fair, which will be held from 1-6 February 2007.
You can see the hottest new releases at our booth, which will be located at:
Halle 5, stand A27-B71. .
To make an appointment, please contact
Patrick Bellaard
Please visit
www.toyfair.de
for detailed travel and accomodation info.
MCF11473 Spawn 12" Figure - Spawn X Adventures of Spawn 1 has regrettably been cancelled by our suppliers, we deleted all orders and apologise for this inconvenience.
item HAS094: Star Wars 30th Anniversary Figures Wave 2 has regrettably been cancelled by our suppliers, we deleted all orders and apologise for this inconvenience.